Welcome again to our weekly blog post. Hope you are doing fine. Today I am going to walk you through the process of ordering a roller door from us. The goal is to simplify things for our customers and partners, so the process is as easy and accessible as possible. We have a buyer's guide that explains in details everything. The Buyer's guide is intended to help you find a suitable product.
The first thing you have to know is that products are divided into four main categories: Roller garage doors, Sectional doors, Aluminium security and Steel security doors.
How to calculate prices
In this section, you will learn how to correctly calculate the price of your desired product.
Aluminium products
Roller garage doors and aluminium security shutters are priced based on overall width and height (including plates and guides).
Steel products
Steel security shutters are priced on overall width and height (including plates and guides).
Sectional products
Sectional doors are priced on opening width and height (excluding plates and guides). They require a minimum of 80mm of space on each side for the guides and a minimum of 80mm headroom space for manual and 120mm headroom space for automatic sectional doors.
Overall height
Calculated by adding the guide height to the plate size. Each pricing page identifies the appropriate plate size by guide height. On face fix installations, please make allowance for the bottom rail projection within the guide channels and bottom "guide" channel as necessary.
Overall width
Calculated by identifying the appropriate guide channels and ensuring their width is added to the required opening width in the case of face fix installations. Each pricing page identifies individual guide channel options.
Pricing example
Let us take a look at an example with a picture attached so you can fully understand it.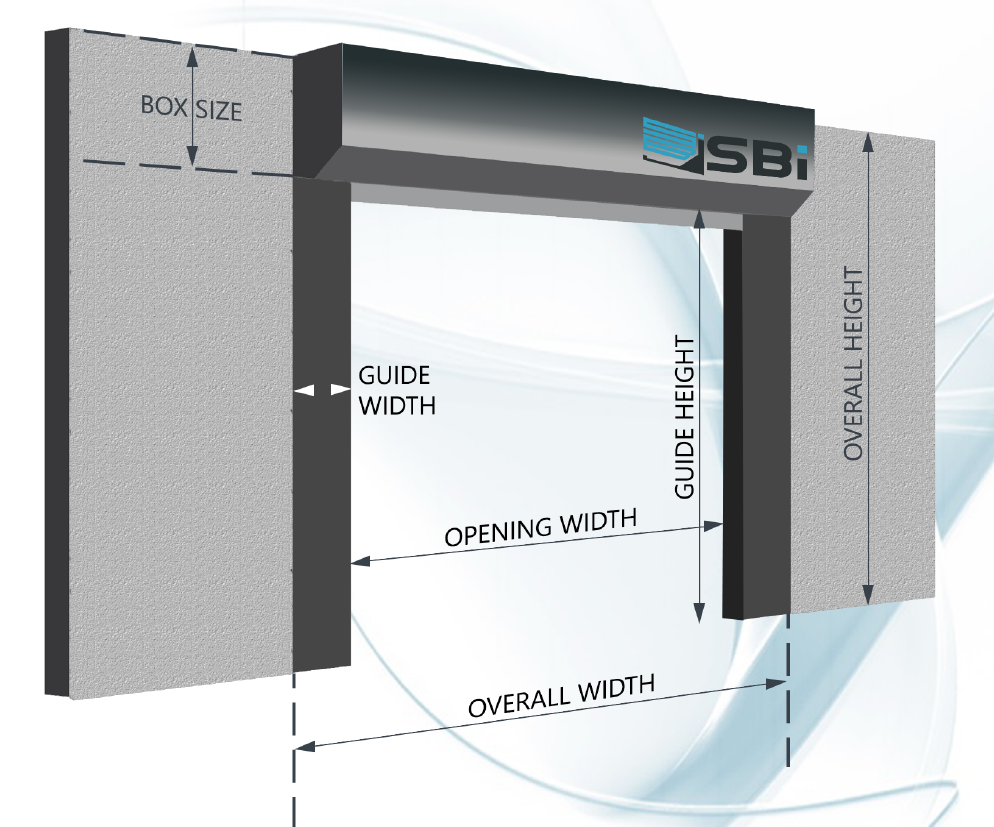 In the picture, we are looking at a face fix H77 roller door to suit an opening width of 3000mm and opening height of 2100mm. Utilising the 70mm guide channel option, the minimum overall width would be:
3000mm + 70mm + 70mm = 3140mm.
Utilising the specified 340mm box, the minimum overall height would be:
2100mm+340mm=2440mm
Surveying
When surveying a site there are some things that are important to note.
Application and level of security.
Location and access requirements.
Number of users operating the shutter or roller garage doors.
Planning restrictions.
Customer's budget.
Appearance (including finishes and colour options).
Fixure type – face or reveal.
Is there sufficient room for the shutter box and guide rails?
Is there availability of a suitable power supply?
How thick are the walls?
If the shutter is for a doorway or the floor level?
Remember it is the surveyor responsibility to ensure that a product is suitable for its intended application. So if unsure whether a product is fit for purpose, call 0333 300 1291 and a member of our team will be happy to help.
Order forms
When ordering you need to assess the following points:
Tables indicating plate size, motor size and battery back-up are intended as a guide only and details may vary depending on exact size and specification. All orders should be placed using a relevant SBI Group order form – find them at the bottom of the page
Please note when ordering:
• Aluminium product sizes are measured/priced 'overall', which is to the top of the box and outside of the guides.
• Steel product sizes are measured/priced 'overall', which is to the top of the box and outside of the guides.
• Refer to the width first and then the height.
• Provide sizes in mm.
• Let us know if you require delivery by a specific date.
• Identify your quotation number on the order form.
• The bottom slat on shutters sits into the top of the guide rails by between 30mm and 100mm depending on slat type.
• Where applicable, the standard motor and operation type is indicated but alternative options and larger sizes are available.
Don't below you can download the steel order form and the aluminium one.
Important notes
All prices are in pounds sterling excluding VAT.
All shutter, option and accessory prices are RRP excluding installation. Please apply your trade discount.
Standard motor and operational types are indicated but a range of alternative options are available upon request.
Some shutters are available in sizes not contained in the buyer's guide.
With all this in mind, we conclude today's topic. For any questions regarding your order or how to survey it properly don't hesitate to call the SBI Group office at 0333 300 1291 and a member of our team will be happy to help.
20 October 2021
Categories: