Today we are going to take a look at our commercial roller doors. We will begin with a short video.
The industrial roller doors provide premium and elegant protection for businesses and commercial purposes.
Roller doors are a premium protection solution for business and commercial premises. We offer a perfect combination of quality, design and price. All of the essential components we use are high quality and comply with the EU and UK endurance standards. The entire product is galvanised and painted, which protects it from corrosion. We use the latest products and installing technologies as we know our products must guarantee reliability to the clients.
Steel Security Roller Shutters
Technology
The roller doors are compactly wound into a well-designed shutter box which requires minimum space. To increase efficiency and provide more space, the box is installed above the light opening.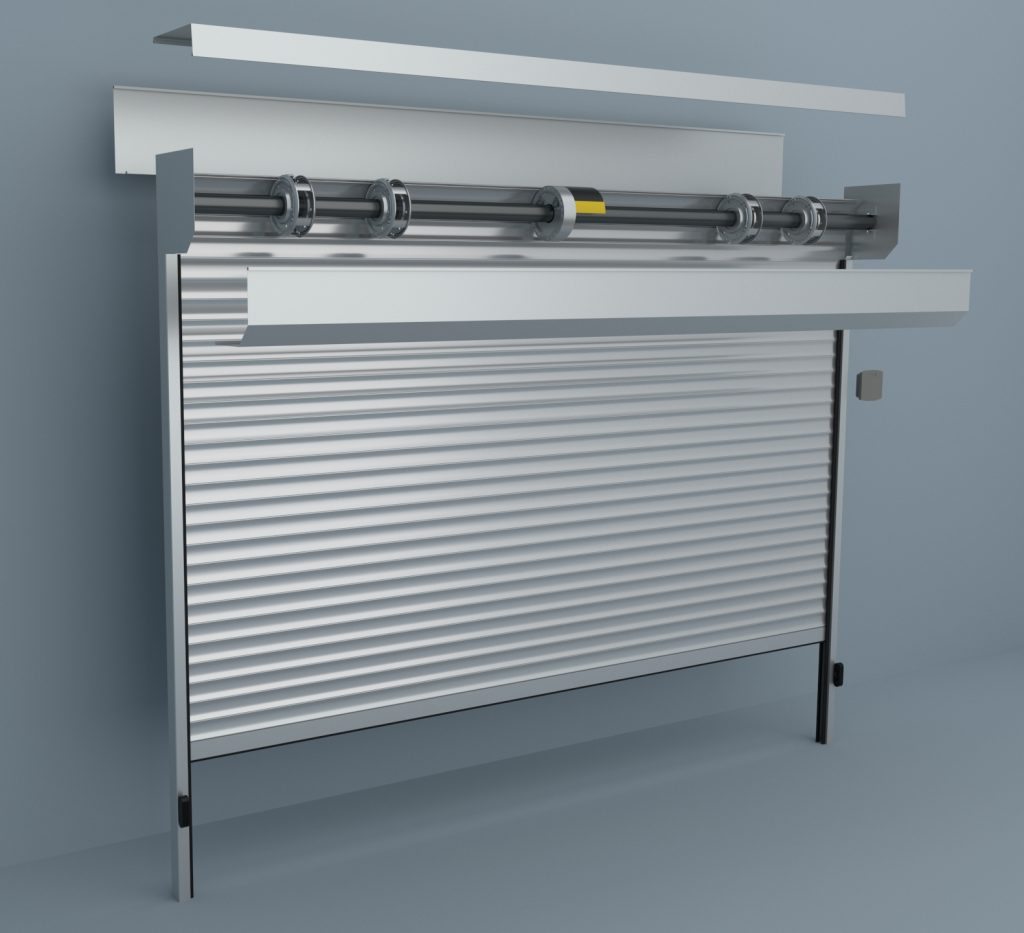 Steel Omega Profile Guides
Extremely strong and made of 2 mm galvanised steel omega profiles with brush and rubber seals for minimal noise while the roller door's in motion and maximum sealing.
Locking mechanism
The mechanism provides a high level of security. In most cases, customers prefer automatic roller doors in which the electric motor has an integrated brake and locks the door. The manual roller door locking mechanism consists of two secret locks locking both sides of the door in the omega guides.
Safety features
SBi Group ensures all products comply with safety regulations. We offer optional locking and protection solutions for the roller doors – motion blocking devices in case of engine failure, safety edge solutions, etc.
Design
Let's talk a little about the design. The non- insulated roller doors made of galvanised steel slats are suitable for premises where visibility from the outside is not required. Two advantages are that the roller doors provide maximum security and the air draught is limited. The slats are made of 0.7 mm powder polymer coated galvanised steel which gives your shop and/or office space the necessary high-security level. The H105 slat design is a very common solution used in shops, offices, and/or even garage doors. It is highly recommended that the windproof slat design be utilised if the product is facing an area in which it is in direct contact with strong winds as this design is manufactured to withstand such force.
Packages
Economy roller door – provides a great balance between value and quality. It provides great security and comes with a new motor technology. The economy package is an entry-level automated roller door that complies with all UK and EU safety regulations.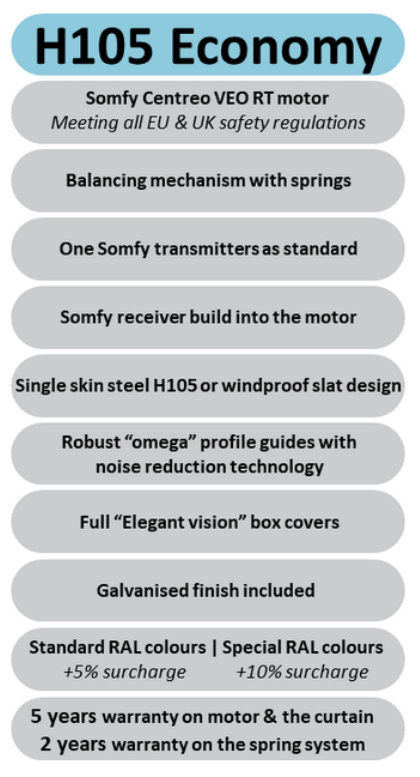 Other package options are "Standard", "Platinum" and "Budget".If you want to learn more about each package and how they compare to each other, please follow the link below.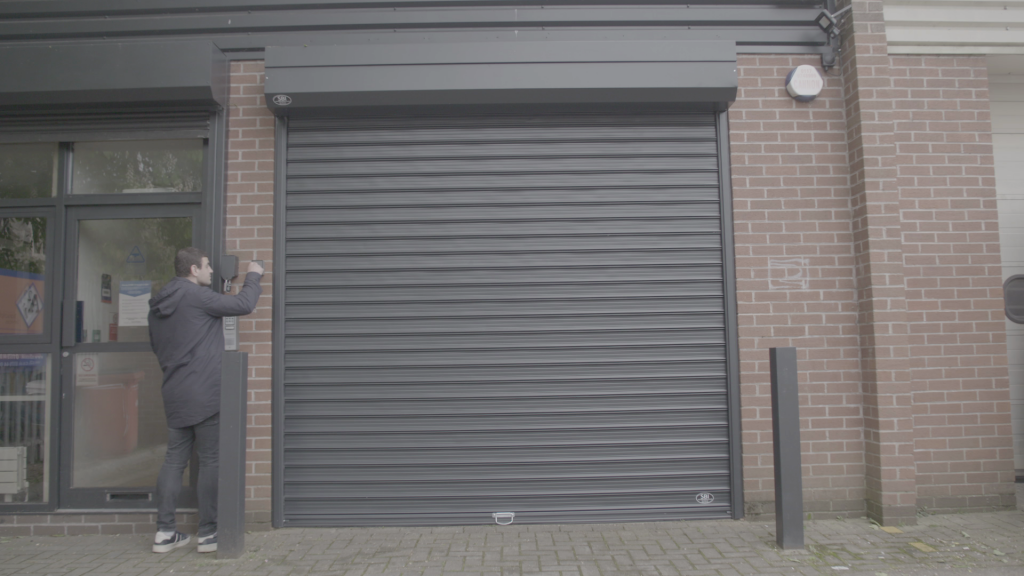 Security Roller Shutters
Perforated Roller Doors are suitable for areas where visibility is required. They provide effective security solutions for shopping centres, shops, offices or locations where the customers want to keep the visibility and air ventilation of their property without compromising overall security.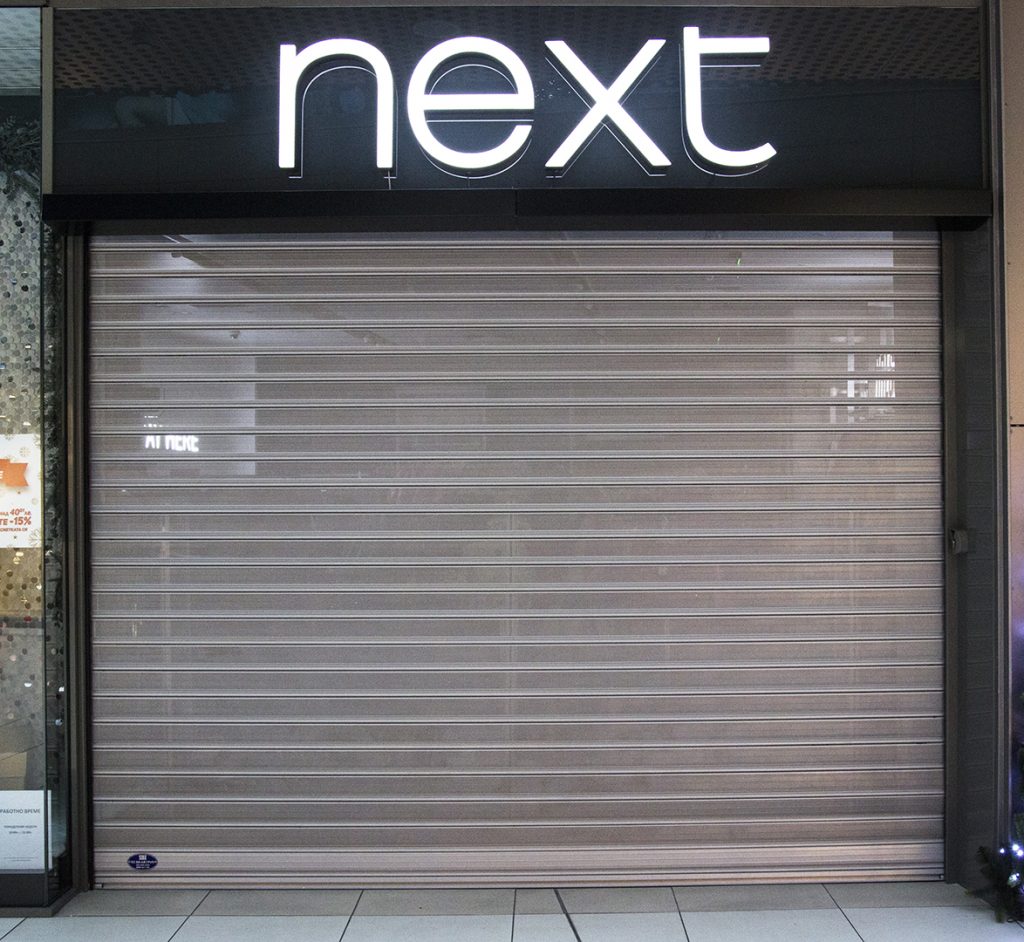 Technology and design
The Ellipse & "Mosquito" Slat Designs
These variations are designed to bring attention to your shop, office or building. The technical characteristics are to the highest standards. The thickness of the curtain is 0.7 mm powder polymer coated galvanised steel which does not compromise the security level. Ventilation and visibility are some of the benefits these slats offer and can be used in different situations.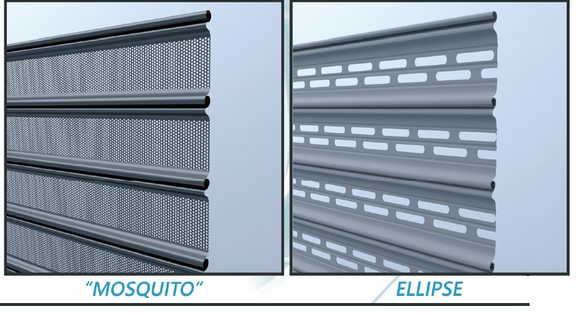 Security Roller Grilles
Technology and Design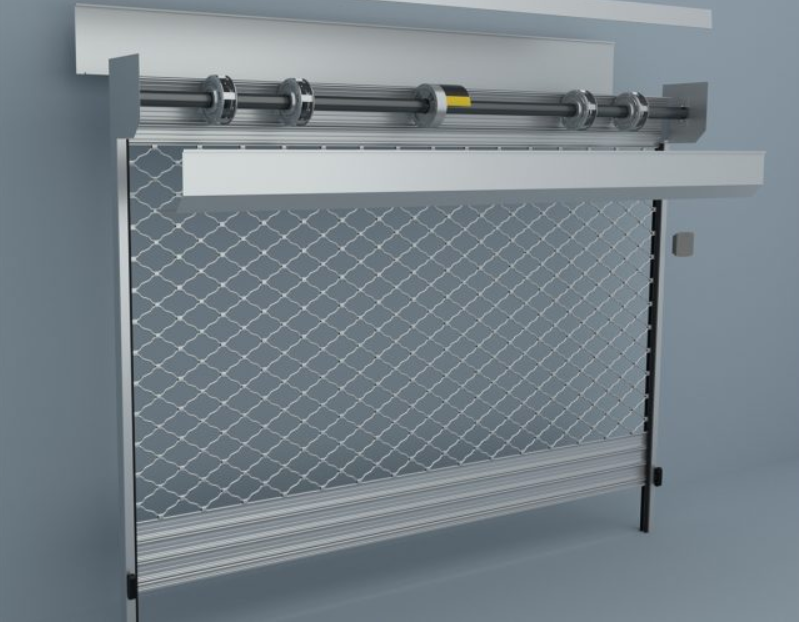 Roller Grilles are strong and stylish, with a modern design that provides perfect visibility to the interior of the premises. They could be easily mixed with other slat design varieties from our slat selection.
The "Diamond" shaped curtain is made of 8 mm galvanised reinforced steel sticks which are attached to each other with pre-galvanised steel hinges layered with powder polymer coating. They are strong and provide maximum security and good visibility to the interior of the premises.
Designed for retail and commercial applications, the Tube & Link roller door is constructed from galvanised steel tubes with link sections held together by galvanised steel rods. The grille curtain is available in a brick bond with two height varieties 120 mm or 90 mm.
Colours
Roller shutter doors are an important feature that enhances the curb appeal of a building. SBI group understands the importance of quality, cost and style and so to further allow businesses and consumers the opportunity to customize their roller shutter doors, various colour options are available. With colour playing a significant role in the overall appearance of roller shutter doors, SBI Group is committed to satisfying customers' needs by providing every colour range from the RAL catalogue without an additional surcharge (subject to package). SBi Group guarantees the colour durability and corrosion resistance of the weatherproof paint utilised on their products.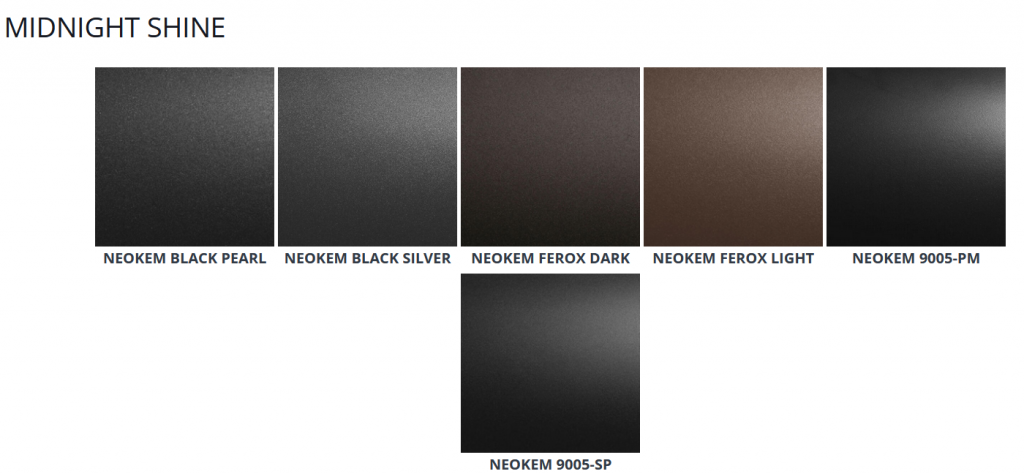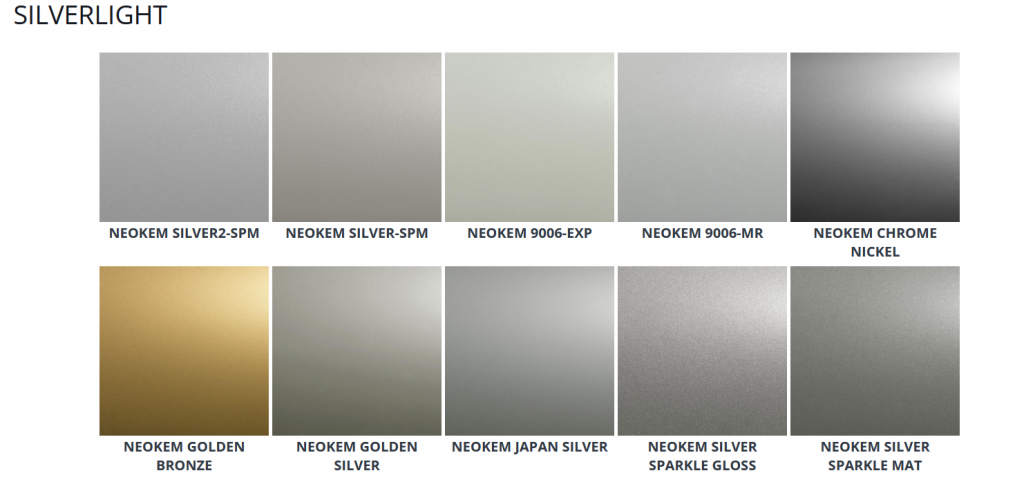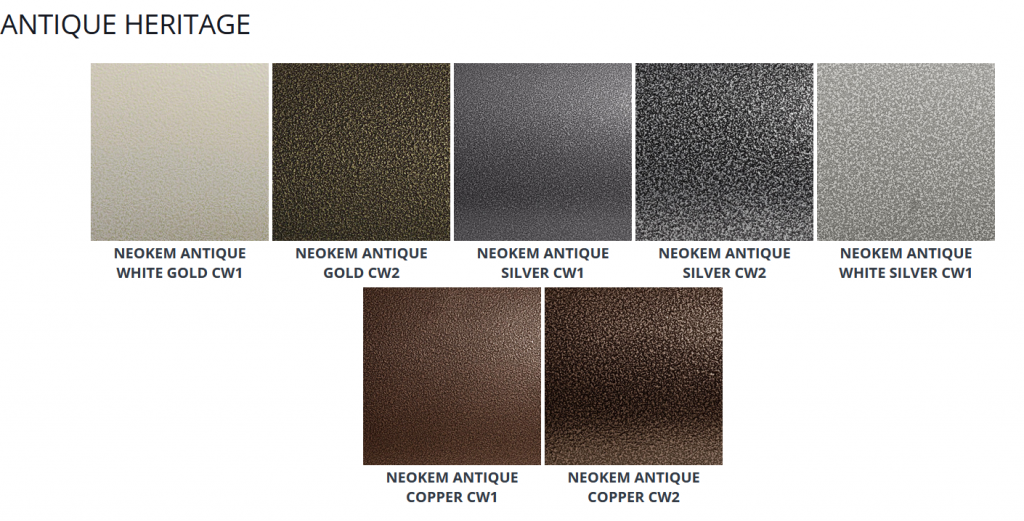 With this, we conclude today's topic. You were acquainted with our commercial roller doors. You saw their technology, design, colour options and most importantly their advantages.
17 January 2022
Categories: