Today we are continuing to show you our portfolio. We will be taking a look at H105 and all of its 3 packages-Standard, Platinum and Economy. We will see what are the key differences so you can choose the best option for yourself. As always we will start with a short video explaining the product.
Let's start with the obvious thing first. The motor on the Standard and Platinum package is Somfy Centreo motor while on the Economy one is Somfy Centreo VEO RT motor which is meeting all EU and UK safety regulations. The Budget option per its name has a manual operation. All 4 products have a balancing mechanism with springs. Another common thing is that all of them consist of single skin steel or windproof slat design. The slats are made of 0.7 mm powder polymer coated galvanized steel which gives your shop and/or office space the necessary high-security level. The H105 slat design is a very common solution used in shops, offices, and/or even garage doors. It is highly recommended that the windproof slat design be utilized if the product is facing an area in which it is in direct contact with strong winds as this design is manufactured to withstand such force. As always here at SBI we strive for reducing the noise to a minimum, that is why all packages include robust "omega" profile guides with noise reduction technology.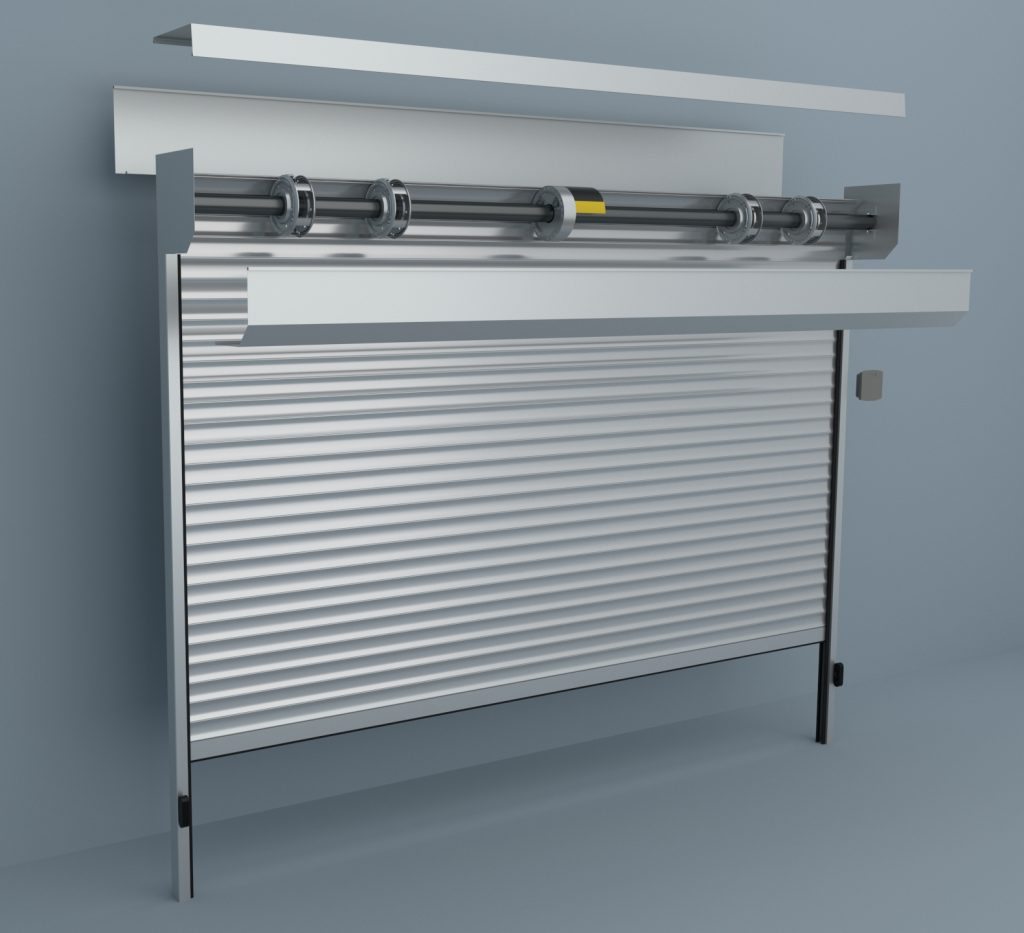 Both Standard and Platinum packs have 5 years warranty. The Economy kit includes a 5-year warranty on the motor and curtain and 2 years on the spring system.
We understand that roller shutter doors are an important feature that enhances the appearance of the building. Here at SBI, we understand the importance of quality, cost and style. That is why we offer a wide range of customization options so each customer and business can choose that best fits his/her needs. In the Standard package, all standard RAL colours are included while for special colour effects there is a 5% surcharge. In the Platinum version everything is included (all RAL colours and wood effect). In the Economy package, we have galvanised finish which is included and there is a 5% surcharge for standard RAL colours and 10% for special RAL colours. The Budget package includes all standard RAL colours and there is a 5% surcharge for special colour effects.
The last thing I want to touch on today is the control accessories. There are some differences between the 4 options provided. The standard package comes with two transmitters and a Somfy Rollixo Optimo RTS receiver with photocells or a wired safety edge. The platinum package comes with two transmitters as well and a Somfy Rollixo receiver with an integrated alarm and wireless safety edge. This platinum option also includes Somfy Tahoma with which you can control our product via mobile application. The Economy package comes only with one transmitter and a Somfy receiver built into the motor. Lastly, the Budget option comes with pair of secret locks and 3 keys. SBI Group offers a wide range of options for control accessories. They range in style, and features and so they will vary in price. We are committed to providing high levels of customer service and because of that, we always look for a way to give our customers options that will meet their individual needs. All our smart devices are compatible with google assistant, Amazon Alexa, Sonos, Philips hue and many more.


This is it for today. We took a look at the 4 packages of our H105 Non-insulated garage door. Hope you saw all the differences and picked the right option for you. As always see you at the next one.
8 September 2021
Categories: