Welcome again. Today we have another guest who will be talking about some interesting things about her stay at our company. We are joined by Ms Nesrine who was an intern in SBi Group.
Firstly, let me say it's nice to meet you, hope you are doing well. If possible, can you tell us something about yourself so the readers can get to know you better?
I am Nesrine, a 22-year-old girl. I am Italian but I have Algerian origins. I live in Turin, but my studies led me to move to Nice, South of France. I graduated in Industrial Production Engineering and I have recently moved to France for my first year of Masters. I'm very glad to have been able to achieve one of the biggest steps in life. I am a very sociable girl who always likes to learn, in my free time I do art. I love spending time drawing and visiting art exhibitions.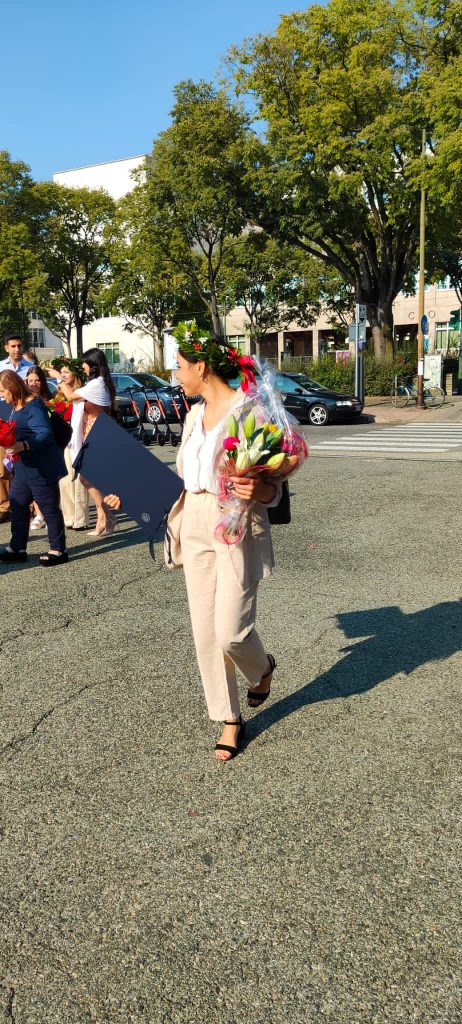 How did you find about the position in SBi Group?
I was looking for a part-time job in those days, and I found an advert on a job board. The offer was to work as an assistant. Rad interviewed me and immediately said that the position wasn't right for me as I could do more. So, he offered me the opportunity to start an internship at SBi Group.
What were your responsibilities & tasks during your internship in SBi Group?
The objective of the internship was to analyse the company's production cycle to find an efficient layout at the headquarters in Sofia. To do this, I was asked to take machine measurements to approximate their cycle time, as well as to find connections between them. Furthermore, I was also responsible for determining the space needed to accommodate all the facilities within the manufacturing plant.
What kind of skills did you learn from your internship?
Being the only trainee in this project allowed me to focus on several aspects of it. The experience enhanced my critical thinking, as well as my ability to analyse problems and provide a reasoned solution. Also, the internship allowed me to discover new 3D programming software, such as Blender and a project management software – Asana. On top of that, it has made me much more organised and conscientious about deadlines.
Did the internship help you with your future goals?
Absolutely. This experience has cleared my mind about my future and about what I want to do.
Can you share a funny story, if any, while you were working at SBi Group?
I remember a time when Rad and I were in the office, but the weather was very nice. As Bristol is very cold and cloudy, Rad decided early on to take all the materials and work outside in the sunshine.
What do you think about the people you worked with? Did you get along?
Unfortunately, I didn't get to know the whole company team as they were in Sofia. I worked closely with Rad in Bristol. He was very patient in training me and available whenever I needed some help. I enjoyed working with him and I thank him for the motivation he constantly gave me.
What is your overall opinion on the working process while you were there?
The working process was sufficiently well organised.
What do you do in your free time?
Since I was a child I used to draw. In my free time, I paint and create portraits. I recently started to sell some of my paintings, and I must say that it is going well. Besides that, I manage a sports association and most of the time I organise sports events for Erasmus students.
You can find her work via this link – https://instagram.com/__artnes?utm_medium=copy_link
What are your future endeavours?
In March 2022 I will be starting another internship. My goal now is to find another challenge and learn more!
Would you recommend SBi Group for internship and if so, why?
Absolutely. Even though I had no previous experience, SBi Group made sure to bring out all my qualities and improve my technical skills. The environment enhances the person and encourages continuous improvement.
Thank you for this wonderful opportunity. It was nice meeting you. Hopefully, our readers learned a thing or two and we've managed to generate some interest among students, graduates or people looking for new opportunities.
With this, we conclude today's interview. We met Nesrine and she told us about her experience during her internship here at SBi Group. If you do believe this is the right place for you do not hesitate to email us at staff@sbigaragedoors.co.uk
3 November 2021
Categories: